For over 50 years We are Vivid (formerly Murray Human Services) have been providing quality disability support to residents of northern regional Victoria. We are Vivid works with adults who have an intellectual disability to provide flexible and unique support – including education, residential services, employment.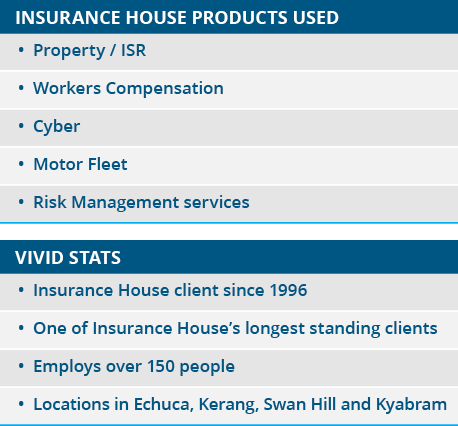 We invited Scott Alexander CEO Vivid, Jan Schultz Finance Manager Vivid and their Insurance House Account Manager, Craig Sutton for a round table discussion about what makes for a successful professional partnership.
Jan says it's about understanding each other and being easy to deal with. "I think it's understanding our business – who we are and what we do. Craig knows where we fit in the community and that's a big thing," she says.
"He's also easy to deal with: whatever it is, whether it is something Craig should be doing or needs to go to someone else, it gets handled by the right people. It's not a case of 'you need to speak to so and so about that' – it's 'we'll make it happen'. And true to that he gets it all sorted."
Scott shares three factors he believes are vital to the ongoing success of the Vivid- Insurance House partnership.
"Responsiveness. All the staff say how responsive Craig is and we've very appreciative of that. Expertise: he's clearly very competent. Confidence: we are very confident we are dealing with the right person and the right firm."
"So that responsiveness and that expertise, leads to a happy customer, but also a customer that has confidence in who we are dealing with, so we know we are being well looked after."
And Craig? "Well that's one of the nicest things anyone has ever said to me! On the other side too, we go the extra level. We are really proud to do business with Vivid, and when we say we are going to do or help with something, we do it."
So much so that when Vivid needed help in making over a resident's garden at its Echuca accommodation site, Insurance House was there to help. In fact the whole team from our office was. The day proved a fantastic event and delivered a lovely garden for the residents to enjoy.
"That personal approach really makes a difference," says Jan. "Hats off to Insurance House for being involved in that spectacularly successful day, and the ripple effect continues from it. It's not just about writing a cheque and handing over some money – it's actually getting in there and doing something."
Want to read about how we have helped others?
© 2020 Insurance House Pty Ltd ABN 33 006 500 072 AFSL 240954